Caroline Oates
Visit Caroline's Gallery
Caroline has just returned to painting though she has been creative and connected to the arts all her life. She is inspired by her beautiful surroundings in the Yorkshire Dales and enjoys the diversity of the British Isles. She regularly visits Cornwall which has a special place in her heart.
Collage is often a feature which she uses to embellish her work. She loves to use objects like jugs and vases from around her home, wild flowers in the country lane or pebbles, shells and beach finds as subjects for still life.
For many years Caroline has been absorbed by other artists work both in the local area and around the country and says she is always amazed at the skill and talent shown, especially by printmakers. Some of her favourite painters include Elaine Pamphilon, Laura Knight, David Hockney, Van Gogh, Mary Fedden and Winifred Nicholson.
You can contact Caroline at carnie123@aol.com
David Edwards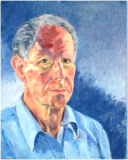 As a teenager David was encouraged and taught to draw and paint by his father who was a professional artist. Growing up in London meant that they could visit major art galleries, and the pleasure and value of looking at a wide variety of art has remained with him ever since. Later the needs of a growing family of his own and a career in engineering meant that painting took a lower priority, but an early retirement allowed him to devote much more time to painting.
David likes to paint the world about us, and living in North Yorkshire there is a wealth of wonderful countryside to inspire him. He enjoys painting and sketching outdoors whenever possible to keep his paintings fresh and responsive to the colours, moods and character of the landscape, which can vary rapidly with changes in light and atmosphere. David then uses these resources to develop more considered work in his studio, where he also enjoys painting still life subjects. Whenever he travels in the UK or abroad David always has some drawing materials or paints with him to capture the local atmosphere, and perhaps complete some pictures on his return home. He normally paints in oils as he prefers that medium above all others, but occasionally he works in acrylics or watercolours.
If you would like to see more of David's work, get any further information or are interested in commissioning a piece of work, please contact him:
Telephone: 01609 748000
e-mail: david.edwards.belvoir@gmail.com
David's web site
Dave Garrett
Information and images to follow
Frances Green
Frances started painting as a teenager but was unable to take up a place at art school. After a long gap working as an antique dealer and bringing up a family, she started painting regularly at Sleningford, being taught by Laraine Simpson.
She has had painting holidays abroad and done several courses with different tutors.
She likes to work in oils or acrylic, mixed media and collage and finds inspiration in the beautiful Yorkshire countryside and the work of artists such as John Piper and Edward Seago.
She has had paintings in The Zillah Bell Gallery, Thirsk, The Mercer Gallery, Harrogate and exhibited at Tennants, The Old Courthouse, Thirsk, York Medical Society, The Old Deanery, Ripon and Art for Youth, Queen Mary's School.
E mail - francesgreenantiques@yahoo.co.uk
Visit Frances'Gallery
Glynis Mills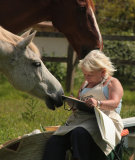 Professional Fine Artist and Printmaker, Glynis Mills, last year was awarded the Cuneo Medal for the best Equestrian work shown by a Full Member at the Society of Equestrian Artists 2013. She is a frequent exhibitor at the Mall Galleries, London, with the SWA and the SEA and also at Zillah Bells in Thirsk. Her work is based around her love for animals especially horses and the people who handle them. Commissions are undertaken with a guaranteed likeness email glynismills@btinternet.com for further details.
Jeanne Mundy
Visit Jeanne's Gallery
Jeanne's studio is situated on farmland in the heart of Nidderdale. North Yorkshire and the Yorkshire Wolds provide inspiration for much of her work as well as holidays at home and abroad. Working in watercolour, acrylic, charcoal, pen, pencil and ink, and mixed media her work is diverse, sometimes experimental, but always developing, painting 'en plein air' whenever possible.
'Through my paintings I strive to create feelings of joy and wonder, fun and curiosity, attempting to capture a sense of place and season.'
To enquire about paintings for sale or studio visits, please make contact via her website: www.jeanneart.co.uk
Jeanne Mundy 07801 560372
John Warburton
Visit John's Gallery
John studied at Sunderland College of Art, Sunderland College of Education and Winchester College in fine art and education. He pursued a successful career in teaching for many years. He lives and paints in the Vale of York and the Yorkshire Dales, a wonderful environment and source of inspiration for the artist. Over recent years, John has balanced his wok between studio painting and plein air taking advantage of the immense space and splendour of the Dales. When we're out gazing at a landscape we don't usually fix our eyes on every petal, leaf or building. What we remember is how the view made us feel and trying to capture that feeling in a painting is John's artistic challenge. You can see more of John's work both here, on his Wensleydale Art website and on his Wensleydale Art Facebook page. If you are interested in purchasing any works or wish to discuss a commission then please contact him via his website.
www.wensleydaleart.com
or warbi47@gmail.com
Keith Price
Visit Keith's Gallery
Keith has been painting and drawing with the group since April 2013 following his retirement from medical practice in York. His interests are drawing waterclour and oil, still life landscape and figurative, with a leaning toward abstraction. He also uses collage in an abstract form.
Laraine Simpson
Laraine is a Fine Arts – Painting graduate of Central St. Martins, London, and has many years teaching experience, as a tutor for the Open College of the Arts (OCA), in Higher Education, Adult Education and privately (courses, workshops and painting holidays). She is highly regarded as a perceptive, patient and encouraging tutor working with beginners and advanced students alike, her main aim being to teach people to 'see' the relationships of line, tone, shape, colour etc which are fundamental to drawing and painting. Laraine provides tuition in a wide range of media and her structured approach to developing creative self expression equips students with essential practical skills and techniques supported by relevant theory. Experimentation with their chosen media is an important part of the process through which learners are encouraged to develop their own style and consolidate their new skills, facilitated by lots of individual tutor attention.
For her own work artworks Laraine uses oils, pastels, watercolours, and a variety of drawing materials. Her main inspiration is the interplay of light on surfaces, particularly the human form (portraiture and figure work) and landscape. Other favoured subjects include architecture and equestrian work. Her work ranges from a fast, loose and free gestural approach to a more measured and evocative tonal style. She has exhibited widely and has work in a number of private collections.
Leila Roberts
Visit Leila's Gallery
Leila Roberts comes originally from Nottinghamshire but has spent most of her life in God's Own County of Yorkshire. A former Literature lecturer she has turned to the visual arts and is most excited by colour and shape. Leila's recent paintings, prompted by lockdown, are a meditation on the quiet, small corners of the natural world. Leila calls these works "The Overlooked".
Liz Hutchinson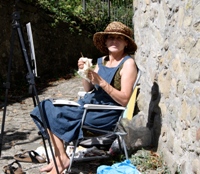 Visit Liz' Gallery
Liz trained as a textile designer in the 1970s at Liverpool College of Art and she still loves colour and pattern. She has been painting in oils for several years now.
Mary Smith
Information and images to follow
Pamela Osborne
Visit Pamela's Gallery
Painting and drawing have been interests for as long as I remember – things I have enjoyed whenever time allowed. I use both watercolour and oils with occasional forays into other media. Landscape and townscape are favourite sources of subject matter. Currently I paint with Yore Valley Artists at Old Sleningford.